I am developing this website near the end of my professional career as a psychologist, teacher and therapist. I wanted a space to put together the ideas created over many decades as I worked with thousands of people. Those ideas are distilled into the notion of the nudge as a small, safe experiment, and the small victories and small defeats that emerge from those experiments.
These small, safe experiments have been so close to me, for so long, that I needed this project to see what the wood would look like… and not feel lost in the trees! Therefore, building this web site is a late-in-life, safe experiment for me.
Family
Can I take some space to thank my son, Alan for technical help and my daughter, Jane for much of the inspiration. It's important to add that Kath Patton, their mam, died on the 30th July 2021 after a very short illness. She was proud of them both, and their two families. In many ways she shaped the ideas on this website by being in my world for some 56 years; we had a good few victories and I may have learned from our defeats, even those that proved life-changing.
Early influences
This material is presented in an increasingly systematic order for the first time to help me to understand what I have achieved. I think I deliver therapy well but I have rarely thought to understand how I do it. I just do it. Therefore, I may learn from completing this task and I trust that others can benefit at the same time.
Where my ideas accord with a specific approach to psychological therapy then I want to respect it. For example, some of this material is influenced by Transactional Analysis (and its US founder, Eric Berne, and UK-based practitioners such as Iain Stewart and Adrienne Lee, from Nottingham).
Other large influences have come from American practitioners like Milton Erikson, Michael Yapko, Don Meichenbaum and Bill O'Hanlon (well-known for his contribution to Solution-focused and Strategic therapies).
My training in clinical hypnosis in London means I have a debt going back many years – to Dr Robert Dupe and the no-longer-functioning BST Foundation (London).
More recent influences
… include Dan Siegel and Bessel van der Kolk. Stephen Porges's work has become increasing influential in more recent years. Once I was rather scared of the complexities of neuro-science, and I was never 'at home' with physiological psychology in my undergraduate years. He has helped me put some of those doubts to bed!
My training in Eye Movement De-sensitation and Reprocessing (EMDR) provided an insight into important practical strategies for supporting people experiencing trauma. It was invaluable in helping individuals explore their experiences safely. It is a model that is good at widening that Window of Tolerance.
And they gather together
……. in my own approach to promoting change using four particular psychological approaches: the transactional, cognitive, systemic and strategic models of therapy. Strategic therapies, for me, include clinical hypnosis.
All of them are over-lain over some traditional views on therapy. A few key names here include Sigmund Freud, Carl Jung, Melanie Klein, Jean Piaget, John Bowlby, Carl Rogers, Mary Ainsworth, Heinz Kohut and the Beck family. I was saddened to hear of the death Aaron Temkin Beck (July 18, 1921 – November 1, 2021), but he did get to be over one hundred years old.
Their work has been described by better writers than I, so please do your own research to bolster your knowledge. I have made mention of their ideas where it seems essential. My summary here, on this page, is simply intended to give you, my reader, an insight into the models that have shaped my thinking.
Clinical Supervisors
My acknowledgements would be incomplete without a word of appreciation to the several professional supervisors who have supported me over the years. This list includes people in Scotland, the North-east of England, London and the East of England.
Sadly, some are no longer with us and I miss the wisdom of Wendy Rose-Neil, Alice Stephenson (Transactional Analysis) and George Fenton (Psychiatrist from Ninewells Hospital in Dundee).
I am fortunate in having the support of Dr Keith Piper. Recently I returned my attention is the work of David Brazier, now resident in France, and very immersed in Buddhist practice.
I would be troubled if I left out some-one, so I want to say a simple 'global' thank you if you remember who I was in your life! This word of appreciation includes many individuals who shared group supervision and group learning with me over many decades, particularly in:
* Newcastle-upon-Tyne (and the Jesmond Growth Centre run by Donna Brandes), where Jenny Biancardi gave me my first break in the world of training.
Dundee and York (and the training provided by Val Wosket and Steve Page),
Norfolk and Perthshire. That number of people is considerable and I can only say: you know who you are.
In addition, there are family and friends around the UK, and beyond, who have put up with my ways over the years.
Conclusions
Designing and implementing safe experiments is not, of itself, a model. Why? Because it is a very personal method of enquiry as you may discover. You may manage this process on your own, or with some support of friends and professionals.
It involves a process that assumes you do not accept my ideas at face value. I want you to use the method of safe experimentation to help it work for yourself.
Reading alone will not work until the words can be interpreted into your own world; trying things out is needed. Noticing what you've tried out and finding out what is important in the results you have generated.
Also, I do insist that other authors are important and I trust I show that respect through the numerous pages on this website. Other writers and researchers can inform your methods and give you confidence in your plans – especially when you translate their ideas into your own world through your own experiments.
That said, gaining knowledge from known authorities is still a first step in the design of sound, small and safe experiments relevant to your life.
Finally, can I say how important Christina, my wife is to me. She's not permitted to be my supervisor or my trainer even though she has written loads and has so much experience to call on.
She is just there for me.
Now that's qualification enough.
Further lines of enquiry
Categories of safe experiments
…. but actions are sometimes not enough
HOW TO DO SAFE EXPERIMENTS FOR YOURSELF
THE END
…. hmm or AN END?
….. maybe just ONE END
…. seems like PART of an END?
Oh, I know …… ONE OF SEVERAL ENDS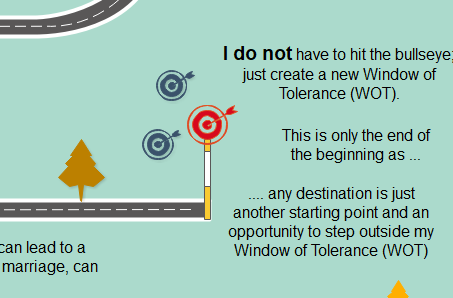 What does yours look like? Find out more about what others do via a weekly email (you can withdraw at any time by letting me know:
[jetpack_subscription_form show_subscribers_total="false" button_on_newline="false" custom_font_size="16px" custom_border_radius="0″ custom_border_weight="1″ custom_padding="15″ custom_spacing="10″ submit_button_classes="" email_field_classes="" show_only_email_and_button="true" success_message="Success! An email was just sent to confirm your subscription. Please find the email now and click 'Confirm Follow' to start subscribing."]