Review January 2023
This page was written after last year's review. From my perspective, I was pleased with the outcome of this latest twelve-month safe experiment as it challenged conventional thinking.
The take-up of free consultations in 2022 was very low. This went against my expectations and, maybe, contradicted the commonly-projected conclusion that the nation's mental health is failing fast. It seems that the readers of this website have a resilience not acknowledged enough!
Am I alone in this? Are my colleagues quite so 'inundated' as the usual narrative would have us believe?
So what's the end-result of this latest review? I will continue to make the website available – with all its information on small, safe experiments.
Readers can continue to ask for a free consultation.
I will withdraw the paid-for offers by this time in 2024.
To continue …….
Can we re-introduce ourselves. I am Robin and I am Christina Mason. You can find out more about Christina on:https://www.counselling-directory.org.uk/search.php?search=Watton+Norfolk&services_select=&approaches_select=&typeOfClient=&keywords=
Both of us have a wide range of work experiences in health, social and psychological care.
Please read on to find out what more we can offer.
At this moment, you are already on the familiar …..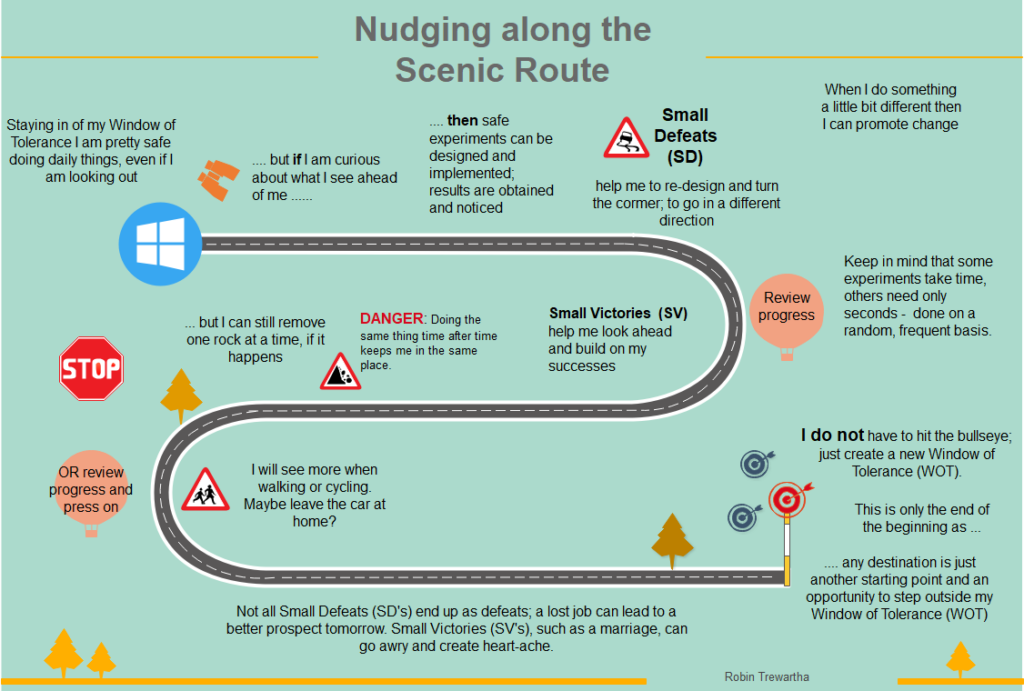 ….. scenic route of your own making.
If you are content with life, then the website just offers free insights into the value of safe experimenting in life.
Free content
The large collection of safe experiments have been gathered from our colleagues and clients over decades. They have been tried out over many years.  As I have said a good few times, no experiment on offer will always work. Most things described here have worked, sometime, for some people.
I welcome more comment from our readers – via the contact form at the bottom of this page – especially if you can help me weave more small, safe experiments into this website.
Other options available
On the website you can find:
Other resources on the Internet
Guidance in choosing a Therapist by their Training
An Index for all pages on Your Nudge
For now, Robin will offer a free consultation to individuals on a Monday morning. If you have interest in this, just complete the form at the bottom of this page.
These meetings will focus on the resources on the website – and what they might offer to you (and, indeed, what you can offer TO it).
A further option we offer
….. is a paid-for contract to create a different scenic route for yourself.
If there is an obstacle on your scenic route ahead, then we may be able to help you design it differently.
Christina and Robin work in a partnership and we'd expect to identify which of us is best placed to help you in that journey. You may find our systematic advice, guidance and suggestions can cast a different light on events. As consultants we offer alternative opportunities to you but it is always your choice whether to develop them.
A flexible professional service
Any additional fee would be negotiated depending on the level of contact you are seeking – email, telephone, Zoom, occasional or regular. There is no fixed fee; this needs to be negotiated each time. What we offer to you is:
a space to find ways for you to do something just a little bit differently.
encouragement to be creative and curious.
practical help to design a nudge, or a small and safe experiment.
to be there as you meet your small victories and small defeats.
to help you identify the victories and defeats and to see what can be done about them.
to help you notice the mixture of victories and defeats that emerge from just one experiment. They are easily missed and that's one learning opportunity out of the window.
Do seek a thirty minute free initial consultation
Only after you have had some thinking time, would we invite you to negotiate a flexible payment to support you in the development of a plan of action.
You can take as much, or as little of our time when working out on that decision. You can step in, or out, of our work at any time.
Next step
Ask for a meeting. This is likely to be via Zoom, in 30 minute segments, but it can be face-to-face if you can get to the East of England!
Use the form below to request a consultation and to provide additional information you think it would help us.
Ask for a male contact – that will be Robin – or a female contact and that will be Christina.
We will reply by email in the first instance. Do prompt me after a few days as we prefer to get back rapidly but we can overlook things, as do we all from time to time.
Take some time to read a small number of pages on the website.
CONTACT FORM
An alternative approach is to go to the Welcome page and use the leads there.