Here is a first nudge or small, safe experiment enabling you to pursue a New Normal. It follows up my suggestions on the Welcome Page.
What does the picture below mean to you? If it is puzzling, take a moment to focus on it. Just notice what comes into your head – whatever comes.
Be willing to jot down something
Maybe write down any reactions or questions – say some bullet-points or even the first 100 words that arrive. Write them down as you may find you want to return to them sometime in the future.
The illustration, below, seeks to identify three centres of attention when considering some change in your life. The illustration is a map to help you make a journey, it is just a map,  not the journey. It is only as helpful as you use it.  Maps are a representation, a human invention. At best, maps are a guide; at worst, they can deceive. If you want evidence of that possibility take a look at some of the early maps developed by the explorers of the 14th and 15th centuries.
The journey you are considering today will be a series of experiences. It is something you either do, or do not do.
So what will be your New Normal?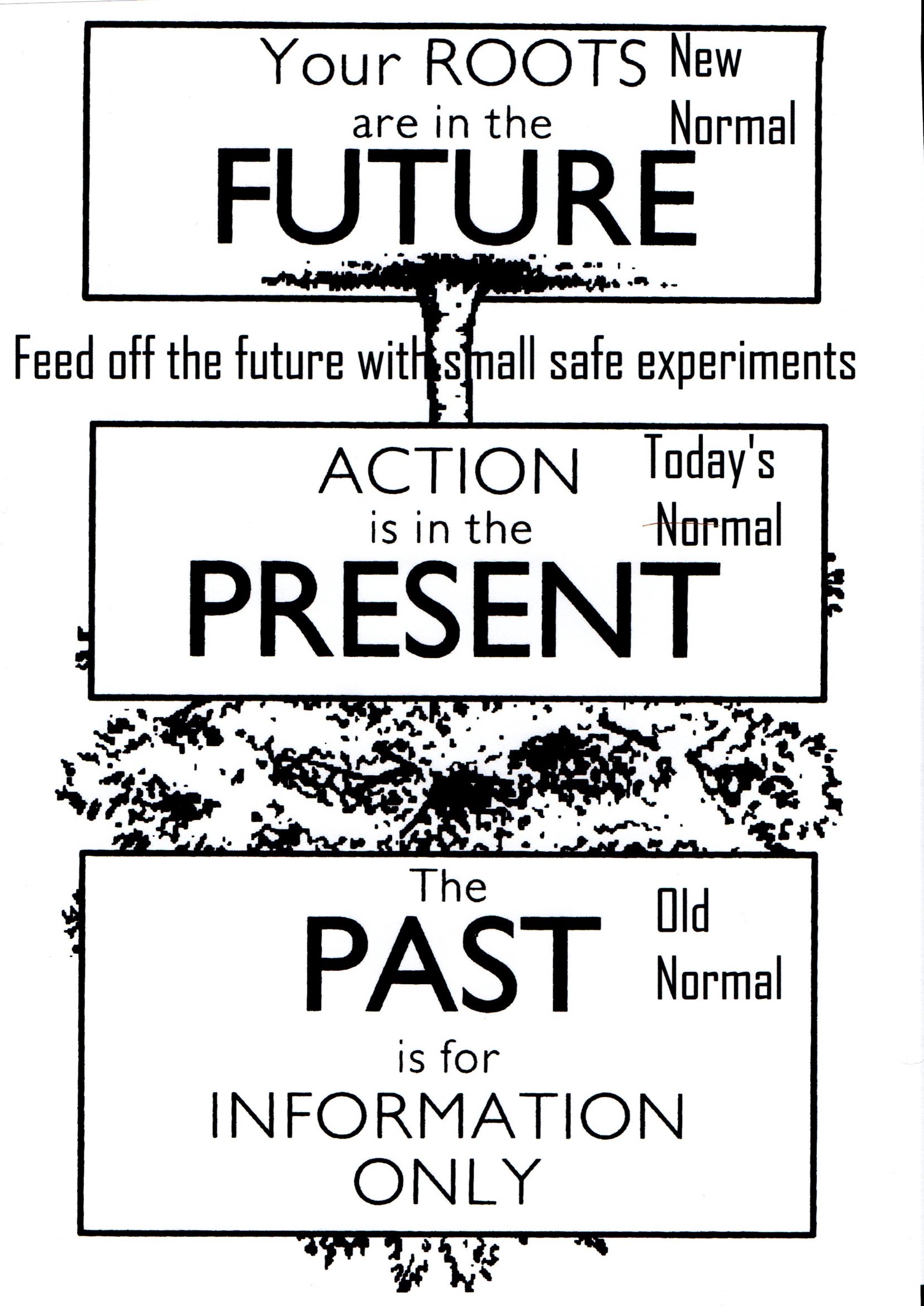 What choices will you make to direct your roots in a different direction today?
Have a notebook on hand – Post-Its might suffice. Record the results of your enquiries, and the different outcomes you are about to generate, needs a record so you can go back to – maybe months later. In my view, a small safe experiment does not exist without a result that is noticed.
Take a look at the bottom of this page where you will find a long list of hyperlinks.
These are all the pages I have composed over the years, often with the help of clients and website readers. You could choose one page quite randomly. That's a safe experiment; either the page will have some meaning to you,  or it may not. Whatever happens – it's not your fault; nor is it my fault.
It's a result.
It may help to label it a small victory, a small defeat or, if necessary, a mixed bag.
Generating small victories; responding to small defeats
Victory or defeat? That's simply the judgement you place on the outcome of any small, safe experiment. It's the result of an action taken.
When reading a page has some meaning for you, I call this a small victory. When a page appears confusing or without meaning, I call this reaction a small defeat.  That, too, is not your fault, or mine! It's the result. The only concern is what needs to be done about it. [Hint: you could tell me the result – on the form below. I will respond so remind me if something gets lost in the ether!].
The key question is: what do you do about your small victory or your small defeat: for more on the value of 'small', take a look at this page.
Use the SEARCH box
A different way forward would be to use the Search box. This is located at the bottom of any page. Search for any word of interest to you. You could do that now. When you type in your chosen word, and press the search button, a number of pages will be listed containing your chosen word, if it's anywhere on this website.
Most pages suggest an additional small, safe experiment that is available to you; but please choose what interests you. Maybe you'll even tweak my suggestions and that is not only possible, but desirable..
For example, what about starting with a visit to: https://your-nudge.com/exploring-what-i-might-do-differently/
Alternatively, chose another page to explore in greater detail and see if that says anything to you at all!
What word would you choose to search? What about 'design'?
Have you tried one already? What was the outcome?
So what IS a nudge or small, safe experiment?
A final way forward I would suggestion would be to head for the page headed 'What is a nudge'. This provides my own first thoughts on 'nudging'. I start to explain about 'safe experimenting', and offer some examples. 
It is an introduction to nudging yourself into making changes in your life – when you feel ready to do that! Please use this material to nudge yourself; let others nudge themselves when they are ready.
There is at least one other choice you have at hand:  not to do any of the things I have suggested so far. It's just another visit to another web-site. There's a lot of them, eh? I list a few, here and there.
Let me know if you hit a snag navigating my web site. You can do this by adding a comment to the form – found at the bottom of this page. Many pages have been written and re-written as a result of feedback. Over several years, additional pages have appeared often stimulated by questions I have been asked, or from observations made by visitors.
For clients and ex-clients, it will help me if you post a comment on my contribution to your own practice of psychological therapy. This will keep me on the ball!
You need not read this website page by page
You may need to left-click or right click (to obtain a new window), when using hyper-links. By the nature of the Internet, hyper-links can come and go. Do let me know when one particular link no longer works. I'll look out an alternative.
I do not want you to follow the nudges included here simply because I recommend them.
Why is that? This website is now very substantial so it does now contain many opinions. Where that is so, I'd want you to recognise it as just one man's opinion. Where there is a description of something that can be done, please see that as something that has been tried by others. The action has worked for some-one, somewhere.
There a lot of nudges on offer. Some will be relevant to you; others will not. The timing for one nudge may not be quite right today; another time, the same nudge may hit the nail on the head.
I want my information to help you recognise a nudge for what it is. Your own prompt to action. When you design your own steps it can lead to an improved ability to build on successes or adapt to unexpected/unwanted results. Often adaptations are forced on us, as we are discovering in the current public health crises of 2020, onward. Those changes do not mean there are still no choices open to us, even if it feels like that sometimes.
Every success to you in following your own scenic route. Let me know if you now have any questions or comments.
Further leads to consider